Yacht crew management
software
Upgrade the way you track
Crew Certificates
Hours of Rest
Leave
Familiarization
Seamless Yacht Crew Management
Yacht crew management software designed for super yachts looking for simple solutions to difficult tasks.
Three great reasons to use Yachtcru: 1. Say goodbye to spreadsheets and hello to real-time tracking. 2. Get up and running in minutes, no downloads required. 3. Only pay for the modules you need
Monitor your Safe Manning document. Set your requirements and the system will track missing as well as expiring documents.
A simple but powerful tool for tracking hours worked, non compliances and related comments. Access from any desktop or mobile device.
Be done with time-off requests in emails and on sticky notes. Handle requests and approvals digitally. Track everything through convenient calendars and reports
We have made it easy to create detailed reports on almost any data in the system with just a few clicks
Uncompromising in its ability to streamline crew administration. Dealing with crew can be the most time consuming part of managing a yacht. With yachtcru you will save time, be more efficient and comply with your flag state requirements.
1
Share the workload
Crew Self-serve
Yachtcru lets employees update their personal data and certificates, saving you time and empowering the crew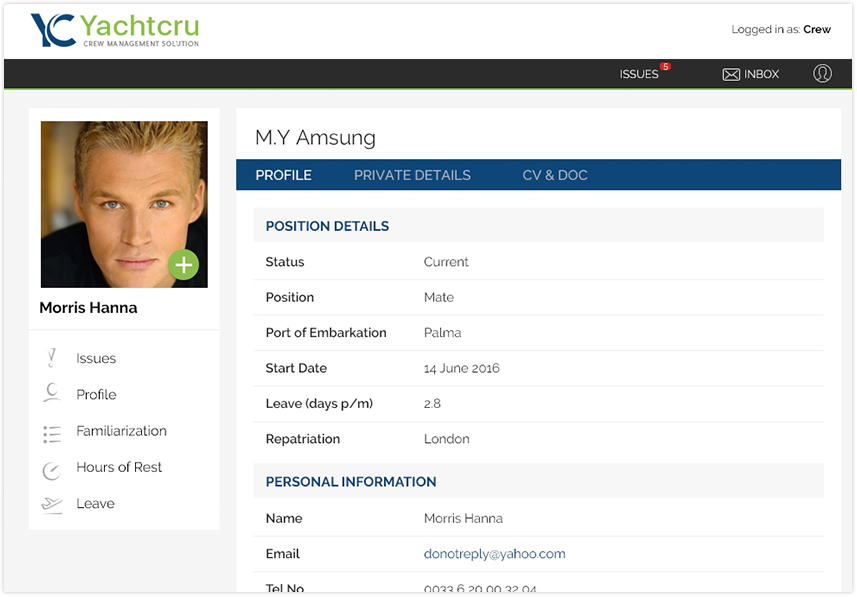 2
Smarter Reminders
Receive Alerts
Yachtcru ensures that no one falls through the cracks. How? By making sure you never miss another certificate renewal, leave request or Safety familiarization.
3
Easy to Use
Reduce your admin time
Refreshingly simple and intuitive our online HR software makes managing a large crew or fleet of yachts effortless.
4
Secure Data
Controlled Access
Centralize and secure your crew's data. Everyone can access the data they need, but only within the permissions you control
5
Accurate Reporting
Export data into a variety of report types. Want to generate a Crew List or see a crew member's salary history we have you covered.
6
Built for fleets
YachtCru was built from the ground up to handle Fleets. We manage the details freeing up time for the important clients.
Managing a single yacht or a fleet?
With Yachtcru everything happens with just few clicks – request, approval, alerts and reports. No bureaucracy, no paper, no hours of admin.
There's no substitute for hands-on experience. Try it yourself—free for 30 days or buy it!